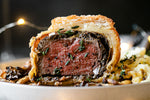 This recipe is wayyy easier than it looks; create a show-stopping meal for your family and friends in no time!
INGREDIENTS:
🔷1kg Saffron Alley's beef fillet
🔷 olive oil
🔷 250g chestnut mushrooms
🔷 50g butter
🔷 2-3 puff pastry packs
🔷 2 egg yolks beaten with tbsp water
STEPS:
preheat oven to 200 degrees
pour 1tbsp olive oil over the beef
season the beef with a lot of salt and pepper
pop it in the oven for 15 mins (medium-rare) or 20 mins (medium)
chop up 250g mushrooms finely (aim for a bread crumby texture – we don't want them liquidy or mushy)
place the butter and more olive oil in a pan and add the mushrooms until they become soft (takes approx. 10 mins)
place a layer of the mushrooms on top of the beef
wrap up the beef in clingfilm and tie off the ends, then chill it in a fridge
once it's chilled, unwrap the clingfilm and place the beef on a rolled-out layer of puff pastry
pave another sheet of puff pastry on top of the beef and press down on the edges
cut off any excess pastry and seal the ends of the two pastry layers with a fork
add another lattice layer by cutting dense strips of the puff pastry, intertwining them and trimming off any excess
whisk 2 egg yolks and 1 tbsp water and use this mixture to glaze the pastry
refrigerate for 30 mins then glaze over again
place the pastry in the oven at 200 degrees for 20-25 mins (medium-rare)
take it out the oven and leave for 10 mins
Dinner is served!