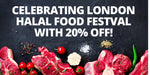 The World's Best Halal Food Festival is BACK BIGGER and BETTER
We are happy to announce that the Saffron Alley family will be exhibiting our finest meats at the London Halal Food Festival for the first time ever.
The world-famous London Halal Food Festival returns in 2021 for the sixth annual unforgettable weekend of delicious delights and family fun.
Saffron Alley will be exhibiting a number of products including our deli range and showcasing how to cook different types of specialty meats.
Not able to attend this time? Don't worry - we still have something for you! For this weekend only, we are offering YOU 20% off all products.
But hurry, this offer will end Thursday at 9pm (30.09.2021)
Use code LHFF20 at the checkout!