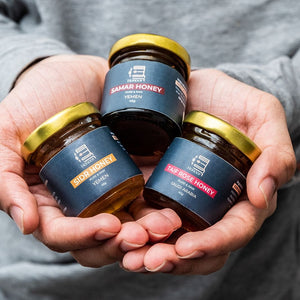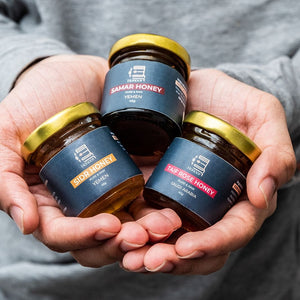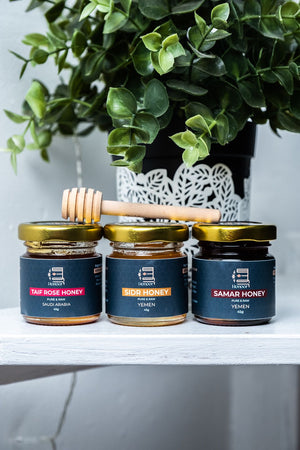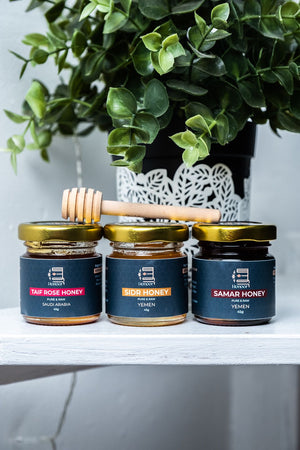 On Sale
Raw Honey Taster Trio Set
Description
Great for gifting or sampling our exquisite range of raw honeys. Set includes 3x 45g taster pots of our super premium Sidr, Samar and Taif honeys.
Yemeni Sidr Honey - 
Sidr (Christ's Thorn/Lote/Jujube) trees of our honey are grown within the Hadramout region, which is in the mountains and surrounds a secluded valley known as Wadi Do'an in Southern Yemen.

Yemeni Samar Honey
-
 is extracted from the nectar of the flowers of the Samar (Acacia) Tree in Wadi Do'an. The flowers grow in desert environments whose flowers bloom between spring and summer.
Ta'ifi Rose Honey - harvested in the mountains of Al-Shifa and Al-Hada, Saudi Arabia. Before the roses are picked, the bees travel from flower to flower, collecting the rare and precious nectar of these roses, for our unique and precious Taifi rose, Honey.
Our honey is produced by traditional beekeeping methods with only the simplest tools used
No chemicals, additives, preservatives, heating process or drugs have been used – completely raw. No machinery used either.
The most important thing is that the bees are not fed any sugar unlike any cheap supermarket honey. It's a process proudly carried out through generations where they use smoke from dried camel skins and machetes to harvest the liquid gold'. This is how both our honeys are kept pure and don't lose any of its healing powers.
We only want to sell the best quality honey to our customers, it's the very same honey that the SaffronAlley family have eaten daily for years!

BENEFITS OF OUR HONEYS:
* Powerful antidepressant properties
* Relieves spasm of involuntary muscle activity
* Boosts testosterone
* Promotes fertility
* Antiviral
* Antibacterial
* Antiseptic
* Anti-inflammatory
* Antispasmodic
* Aphrodisiac

NUTRITION INFO INGREDIENTS