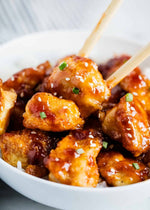 We are OBSESSED with Chinese food - this recipe is perfect for fulfilling your Chinese takeaway cravings! It's beautifully crispy, sticky, and spicy with a hint of sweet and sour. We hope you enjoy this as much as we did Alhumdulillah!
INGREDIENTS:
For the chicken:
1kg Saffron Alley chicken thighs (boneless, skinless, cut to approx. 2.5cm)
2 tsp ginger
2 tsp garlic
1 cup cornflour
Oil for frying
For the marinade:
6 tbsp soy sauce
2 tbsp hoisin sauce
2 tbsp rice vinegar/ white wine vinegar
4 tsp chilli paste
2 tsp sesame oil
6 tbsp brown sugar
2 tbsp cornflour
1 cup chicken stock
For the stir fry sauce:
4 tbsp oil
4 tsp ginger
4 tsp garlic
1 tsp chilli flakes
For the garnish:
Spring onions (finely sliced)
Sesame seeds
METHOD:
For the sauce/marinade: mix your soy sauce, sesame oil, hoisin, vinegar and chilli paste together
Add your ginger and garlic to the chicken. Then take around 4 tbsp of your sauce (step 1) and mix that with the chicken too. Marinate for an hour
Add cornflour to your chicken. Separate your pieces so that each side is fully coated
Add sugar and cornflour to your original sauce, and mix. Then add the chicken stock, and mix
Heat your oil for frying. Then fry chicken pieces till golden brown, turning halfway (around 5 mins). Drain on kitchen towel lined plate
Stir fry your sauce in a clean/new pan. First heat the oil, then sauté the garlic for around 30 secs. Add sauce, simmer, and stir occasionally while it thickens
Add chicken and toss it!
Garnish with sesame seeds and spring onions
Enjoy!