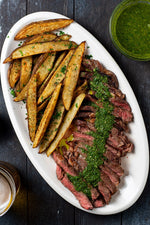 STEAK WITH CHIMICHURRI SAUCE by @cookingwithzainab
Chimichurri is an uncooked sauce used as a table condiment for grilled meat. Found in Argentinian and Uruguayan cuisines, the sauce comes in a green and red version (we're using the green). It is made of finely chopped parsley, minced garlic, olive oil, oregano.
Read on to replicate @cookingwithzainab's delightful T-bone with chimichurri sauce recipe!
Ingredients:
For the chimichurri:
Small bunch of parsley, roughly chopped
2-4 garlic cloves
2 tbsp vinegar
1/2 tsp salt, I used sea salt but table salt is fine
1/4 tsp black pepper
1/2-1 tsp red chilli flakes
1/2 tsp dried/fresh oregano
Juice of 1/2 lemon
1/4 cup olive oil, 60ml
For the steaks:
2 thiccc 600g t-bone and porterhouse steaks from saffron alley
1 tbsp vegetable oil
Salt and pepper
60g / 4 tbsp'ish unsalted butter
2 sprigs fresh rosemary
2 garlic cloves, peeled and a bit smushed
Method:
For the chimichurri:
Blitz together the parsley, garlic, vinegar, salt, pepper, chilli flakes, oregano, lemon juice and olive oil, sauce done baby.
For the steaks:
Take them out the fridge and bring them down to room temp, should take around half an hour. Pat them dry with some kitchen towel.
Add oil and 1 tbsp of butter to a very hot pan
Season your steaks with salt and pepper and add them to your pan
Once you see a nice crust develop, flip it over carefully, took around 2.5 mins
Then after a min add more butter, a garlic clove and rosemary, baste the steak in the melted butter using a spoon. Give it another min and then take it out the pan.
Let the steaks rest for 10 mins before slicing them to your liking and spooning over the chimichurri
Enjoy!