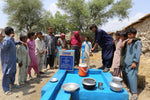 On the Day of Ashura, we remember our shared history and we honour Imam Hussain (ra), the Prophet Nuh (as) and the Prophet Musa (as).
To honour this day, we have partnered with Zaimah Charity to have all donations to go towards a water well to give access to clean, safe water to vulnerable communities worldwide.
At Saffron Alley, charity is a part of our ethos. Being halal and tayyib isn't just in the food we eat but the character we also represent. Therefore, we've worked with various charities over the last few months helping those most in need here in the UK and aboard.
Now, when you place your order online you can add however much you'd like towards the charity cause.
The money donated will be allocated towards a water well giving access to clean and safe water to where most needed.
We promise to provide our customers with an update of where the donations have gone in the upcoming weeks.
"The most generous of people, is the one who gives to those from whom he has no hope of return."- Imam Hussain (ra)