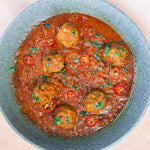 Here is an easy Lamb Kofta Curry. A perfect warming meal for those cold winter nights. Lamb kofta curry is a classic Pakistani curry made with tender lamb meatballs simmered in a flavorsome sauce. These melt-in-the-mouth meatballs are lathered in an onion and yoghurt sauce that makes this curry burst with flavour.
Delicious and incredibly easy to do by our Instragram friend, @rominaslittlecorner
Ingredients:
For the kofta:
250g minced lamb
¼ red onion chopped finely
2 garlic cloves chopped finely
1 tsp cumin
½ tsp garam masala
½ tsp jalapeno powder (optional)
About ½ a handful of chopped coriander
For the sauce:
A red onion
2 garlic cloves
1 tbsp coriander
Ghee
½ tsp minced ginger
1 tsp cumin
1 tsp garam masala
1 tsp turmeric
1 tsp mild curry powder
1 tbsp paprika
1 and ½ cans of chopped tomato
1 tsp salt
1 tsp chilli flakes
Method:
For the kofta:
Mix all the above kofta ingredients well
Shape the mixture into balls 
Heat up about 2 tbsp oil in a non-stick pan
Brown you koftas (don't forget to do all sides!)
For the sauce:
Chop a red onion
Grind down two garlic cloves with a tablespoon of coriander in a pestle and mortar
Fry the onion in some ghee using the same pan
Add the garlic and coriander
Add ginger, cumin, garam masala, turmeric, curry powder and paprika from the ingredients above and mix
Add the tomato, salt, chilli flakes and some pepper
Add ½ cup water and let it cook for 5 mins
Add the meat and cook with a lid on for 10 mins
Turn you koftas and cook for another 10 mins
Garnish with more coriander and chopped chilies before serving!
And voila! Enjoy with hot nan bread or on it's own! Delicious either way. But as always, don't forget to send us / tag us in your recipe recreations. We'd love to see!