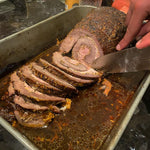 Another winter roast favourite - This super easy recipe was a big hit with SA family.
Quick prep time where you can put it in the oven and forget about it!
Ingredients:
-2kg beef brisket
-500g turkey mince
-Montreal steak seasoning (100g)
Steps:
Butterfly the beef brisket to flatten
Mix turkey mince with Montreal seasoning. Press on to brisket
Tightly roll and tie the brisket using butcher's twine
Place brisket in roasting tin. Add 500mL water. Cover tightly with foil
Place in oven at 150 degrees for 3.5 hours
Cook till fork tender, but be patient, sometimes this can take between 3-4.5 hours
Use juices to make the most delicious gravy!