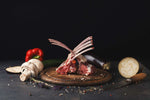 The market is rife with price rises as of late, we've kept ours the same to help our fellow muslims during this hardship.
In fact we've gone even further by introducing a site wide discount to help those in need. Find out more below.
In the name of God, the Most Gracious and most Merciful
As-Salamu Alaikum and welcome. I pray you all are keeping well during this difficult period and may Allah make it easy on us all inshAllah.
Isolation is the name of the game currently making online delivery services all the more vital. This has really inspired everyone here Saffron Alley (SA) to make sure we can provide a quality service to help our fellow muslims isolate and not have to venture out in places with incessant queuing and waiting!
Furthermore, I've had lots of reports of butcher shops around the country having raised their prices to ludicrous amounts which is appalling. Yes its true, the price of meat on the market has risen (around £2-3 per Kg for lamb), but not by double as some have been charging! This should be a time where we look out and support each other where possible rather than exploiting.
At SA, this gives us all the more impetuous to provide a high quality service to our fellow muslims at a reasonable price. Our products are premium in quality and so demand more than the high-street during normality, but nevertheless we believe they are fairly priced in the current market.
With tremendous job uncertainty and money being a key issue for many of us today, we've decided to introduce 15% off site wide through a coupon which can be entered at checkout. It's a small gesture for a much larger problem, but inshAllah every little helps.
Take care and stay tuned for the next post where I'll dive deep into how we're able to run as business currently, and the changes we've made to ensure the safety of our products and staff.
Jazak-Allahu-Khayran
Jabraan, PhD
Founder: Saffron Alley - Muslim, Made Easy.