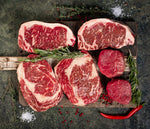 Treat a father you know this weekend!
Don't let lockdown spoil the party!
Father's Day is coming up and there's no better way to a man's heart than with food! Treat your loved one with some of our finest goods and bring the restaraunt to your home.
Whether it's with one of our Steak Boxes, BBQ Grill Boxes or if you're not sure no sweat, we got you covered. We know dad can be a bit of a picky one so why not let him decide with one of our Gift Cards.
So many options and 10% off them all! Use the code below to activate at checkout.