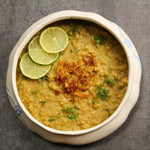 Time to get ready for Eid! If you guys wanted some recipe inspo, you can never go wrong with haleem! This would be great for your Eid menu, and you can customise it to mix things up with beef  or by using other daals to suit you! Make this dish your own, but you can use our recipe as a guide to start off.
The signature element to this dish is the long "rhesheh" or meat strands which are produced after cooking the meat for around 2-3 hours. The best cuts to use for this dish are lamb shanks or beef brisket depending on your preference. 
Both of these cuts are perfect as  they have long muscle fibres which will seperate out into beautifully long strands during the cook. 
At Saffron Alley, we tend to use younger lambs (~4 months) for the majority of our cuts, but lamb shanks are the one exception! Our lamb shanks are taken from lambs that are 7 months+ in age as they tend to be much larger (~450g each!) and so are a great choice for this dish!
Alternatively, if beef is your thing, look no further than brisket! Brisket comes from the chest of cattle and so is a muscle that does lots of work. This means that the muscle fibres are very long and well developed making it perfect for haleem provided its cut in a specific way (which of course our butchers do!).  
Enough talking, lets cook!
The ingredients listed are for 1kg of meat, which will feed around 6 people. Having the exact lentils listed is not essential, use what you have! Also whole wheat is quite hard to find, barley is a good substitute-but use wheat if you can find it!
Cook along with us by checking out our 4 minute haleem video here.
METHOD:
In this recipe, the meat and lentils will be cooked separately as they have different cooking times and then combined at the end. The only preparation you need to do is to soak your wheat/barely in cold water the night before cooking. They should double in size and become much softer.
Cooking the meat
In a deep pan, heat up your oil (medium heat) and add the onions and cook till soft. Add the ginger and garlic, cook through for 5 minutes.
Add your meat and brown the outside for 5 minutes. Then proceed to add your spices: coriander powder, red chilli powder, turmeric powder, salt and garam masala, Stir and cover with a lid making sure cook for a further 6-7 minutes.
Finally add your water, cover again and cook for 2-3 hours until the meat is falling apart.
Once the meat is cooked, skim off the oil from the top of the pan and save to garnish on the final dish for later.
Remove any bones and break up the meat using a potato masher or anything you can find! The meat should now be breaking up into nice individual strands.
Cooking the wheat and lentils
Combine the soaked wheat/barely with all the lentils and rice in a large bowl. Give them all a good mix and wash 3-4 times.
Add to another large pan along with bay leaves, salt, turmeric powder and cinnamon sticks. Top up the pan with around 2L of water and cook at a simmer for an hour.
Combining it all together!
Combine the meat and the lentils into one pan, mix thoroughly with 2 teaspoons of garam masala and place on a low heat.
The final step is to mash! Mashing breaks up the daal and wheat to give the Haleem a thicker consistency. Keep going till your desired consistency and if going for a very thick traditional style, mashing will take around 15 minutes or so! Tiring work but it will pay off!
Finally, place in a bowl, ladel over some of that oil we skimmed off earlier alongside raw ginger, fried onions and fresh coriander!
INGREDIENTS:

✅ 1 kg lamb shanks / 1 kg Beef Brisket
✅ 1/2 cup cooking oil
✅ 2 large sliced onions
✅ 2 tsp ginger paste
✅ 1 tbsp garlic paste
✅ 3 tsp red chilli powder
✅ 4 tsp coriander powder
✅ 1 tsp turmeric powder
✅ 2 tsp garam masala
✅ 1 tbsp salt
✅ 4 ltr water
✅ 4 tbsp whole wheat or barley (2 hours soaked)
✅ 4 tbsp yellow split peas
✅ 4 tbsp pink lentil
✅ 4 tbsp split black lentil
✅ 4 tbsp petite yellow lentil
✅ 2 tbsp split pigeon peas
✅ 5 tbsp basmati rice
✅ 4 bay leaves
✅ 1 large piece of cinnamon
✅ fried onions, lemon, chopped coriander & green chillies for garnishing

Hope you enjoy,