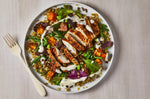 Freekeh is a middle eastern grain incredible both in terms of its health benefits and taste! 
This super quick freekeh salad is a delicious dish that packed full of flavour and is super healthy. Lean chicken, high fibre freekeh and slow release carbs from the sweet potato. Just give yourself 30 mins, and you'll be able to create this beautifully balanced dish that's packed full of flavour!
Ingredients
1 large chicken breast fillet
1 tsp dried oregano
1 lemon
1 tsp smoked paprika
80g natural yoghurt
80g trimmed fine green beans
75g freekeh
50g baby leaf salad
½ teaspoon cayenne pepper
1 small sweet potato
1 garlic clove
30g pine nuts and mixed seeds
Method
Preheat the oven to 200°C. Rinse the freekeh like you would with rice, add to a pan and bring to the boil over a high heat. Cook for an initial 20 min.
While the freekeh is cooking, chop the sweet potatoes (skins on) into small bite-sized pieces.
Create the spicy marinade by combining smoky paprika, cayenne pepper, dried oregano, half the juice of a lemon, and half a tablespoon of vegetable oil.
Butterfly the chicken breast into 2 thin pieces and coat with the spicy marinade.
Add the chopped sweet potato to one side of a baking tray. Drizzle with 1/2 tbsp vegetable oil and a pinch of salt and give it a good mix up. Add the coated chicken to the other side of the tray. Put the tray in the oven for 15-20 min or until everything is cooked through.
Whilst everything is cooking, peel and grate (or finely chop) the garlic. Combine the natural yoghurt with the juice of the remaining lemon, grated garlic and a pinch of salt in a small bowl. Add 1 tbsp olive oil and 1 tbsp cold water and stir it all together – this is your yoghurt dressing.
Roughly chop the green beans. Once the freekeh has had 20 min add the chopped green beans to the pot and cook for a further 5-7 min or until everything is cooked through and tender. Drain and return to the pot. Meanwhile, add the pine nut & seed mix to the tray with the chicken and sweet potato and cook for a further 2-3 min or until toasted and golden.
Add the baby leaf salad and roasted sweet potato to the drained freekeh and veg and give everything a good mix up – this is your freekeh salad. Slice the cooked chicken finely.
Serve the sliced chicken over the freekeh salad. Drizzle the yoghurt dressing all over and sprinkle with the toasted pine nut & seed mix. Enjoy!