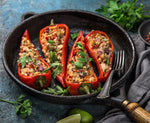 This one's a Ramadan staple for me. Quick hearty meal for when I just don't have the energy to cook in the evenings! The reason this dish works is due to the contrast in textures; the maftoul has a a lovely bite, the roasted peppers are soft, the onions are crunchy and the mince brings a nice level of richness to the dish. Strongly recommend giving this a go!
Ingredients (fills 4 half peppers)
100g Maftoul
300g mince (beef or lamb)
2 bell peppers
1 tbsp lemon juice
1 tsp garlic paste
1 tsp tomato paste
½ tsp cumin powder
½ tsp chilli flakes
Pinch of pepper
½ chicken stock cube
Fresh coriander for garnish
½ finely chopped red onion
1 tbsp butter
1 tbsp veg oil
 Method
Cut the bell peppers in half, clean out the inside and bake in a 180c oven for 20 minutes, or until soft.
Soak the onions in cold water to mellow out the strong oniony sharpness. We'll be adding these raw to the end dish for some crunch.
Add the butter to a hot pan along with the maftoul on low heat and cook for 3 mins. The maftoul will become slightly toasty and being to soften. In the meantime, dissolve the stock cube in around 350ml water and add to the maftoul which will take around 20 mins to cook through.
Add the mince to a medium hot pan with the veg oil, cook until browned. Add the garlic paste, tomato paste, cumin, chilli flakes and pepper. Stir well and cook for a further 5 minutes. Add a splash of oil to the pan if it gets too dry.
Strain the onions, combine with the maftoul and mince to give a nice crunch to the dish. Place this mix inside the roaster peppers, garnish with coriander and presto!
Enjoy!