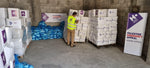 It is with great pleasure that we share with you the success of our Palestine Emergency campaign.
Thanks to your tremendous support, we will be providing 60 family food packs to those most in need Palestine. This will provide a 5kg food parcel of staple foods to feed a family of six, with the help of our charity partner Human Appeal. 
We will be helping over 350 brothers and sisters in Palestine, thanks to your generous support. In the coming weeks we will aim to provide further feedback on your donations to show what a difference you've been able to make. Thank you for helping us help those in need.
The Messenger of Allah (PBUH) said, "Whoever among you sees an evil action, let him change it with his hand; if he cannot, then with his tongue; and if he cannot, then with his heart - and that is the weakest of faith."