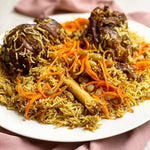 This recipe was created by one of our Instagram friends, @hungryhijabi
What is Dumpukht? It's a slow oven cooking technique associated with the Khyber Pukhtunkha region in Pakistan in which meat and vegetables are cooked over a very low flame, generally in sealed containers with very few spices.
"It is by far one of my most loved rice dishes of all time, originating from Afghanistan, made with Sella rice. Sella rice has the delicious taste and visual appeal of pure Basmati, but with improved holding ability and resilience to over cooking."
It is simply parboiled in its husk, a completely natural process, enabling you to cook and stir this rice without losing the texture. Superb as an accompaniment to casseroles and fresh grilled meats, this grain promises a distinct flavour and high quality finish every time.
Hungry Hijabi made this by using our Grass Fed Lamb Shanks which simply melt when cooked low and slow.
Here's the recipe:
🔸Wash 300g sella rice or basmati until water is clear and soak rice for 3 hours with 3cups boiled water.
🔸Soak 1/2 cup golden sultanas in water.
🔸In a large stainless steel pot heat 3/4 cup of oil in medium hot flame and fry 1kg baby lamb shoulder or lamb shanks chopped into large pieces with plenty of fat.
🔸Once browned add 3 finely sliced medium onions, 1.5tbsp salt. Cook until onions have completely softened. Approx half an hour.
🔸To this add 1tsp shahi zeera or cumin powder with1/2or 1tsp pulao masala. Cook for 10 mins.
🔸Add 2 coarsely grated carrots and fry for a further 5 mins.
🔸Add 300ml boiled water and stir. Cook for a further 2hours until soft.
🔸All the water should have been absorbed by the rice. Add the rice to the lamb and Stir.
🔸Add enough water until it's 1inch above the rice. Add sultanas. Boil for 5 mins.
🔸Sprinkle 1tsp cumin powder or shahi zeera. It's now ready for the oven. I
🔸Cook the remainder of the pulao in the oven for 20-30mins, gas 4.
🔸Once complete, be careful and safe and use an oven glove to fluff the rice with a fork and serve. Enjoy