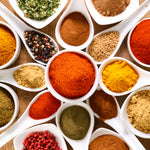 🍲 Traditional Nihari 🍖

Nihari is easily one of our favourite meals; it's a speciality dish that's always considered difficult to make because of the slow cook.

Here we've tried to demystify the recipe and hope it inspires you to give it a go! After preparing the masala, you can leave the Saffron Alley Halal Grass Fed Lamb Shanks to slowly cook for 4 hours with very little required thereafter-its honestly far easier than we used to think!

Let us know how you found the recipe and we're looking forward to seeing all of your dishes!


INGREDIENTS:

🔸 1 kg of Saffron Alley lamb shanks
🔸 4 tbsp desi ghee/butter
🔸 2 medium onions (finely chopped)
🔸 3 tsp salt
🔸 2 tsp coriander powder
🔸 1 1/2 tsp turmeric powder
🔸 1 tsp ginger paste
🔸 1 tsp garlic paste
🔸 3 tbsp wheat flour (mixed with 1/2 cup water)
🔸 Ginger (cut into thin strips)
🔸 Coriander (finely chopped)
🔸 Lemon (slices)

NIHARI MASALA INGREDIENTS:
🔸 1 tbsp cumin seeds
🔸 2 tsp fennel seeds
🔸 1 tsp ginger powder
🔸 1/4 tsp nutmeg
🔸 6 green cardamoms
🔸 2 black cardamoms
🔸 10 black peppercorns
🔸 5 cloves
🔸 1 bay leaf
🔸 1 cinnamon stick

VIDEO - Watch the step-by-step video on our Instagram 
STEPS 
1. Dry roast the whole spices in a warm pan for around 5 mins and keep mixing so they don't burn.

2. Once Cooled remove the cinnamon stick & grind them in either an electric blender or pestle & mortar.

3. Crush the cinnamon sticks.

4. Finely Chop onions & fry in a pan with butter & ~Desi ghee

5. Take your Saffron Alley Lamb Chops & add to the fried onions with garlic, ginger, salt, coriander powder & turmeric. Stir & Sautee for 5 mins

6. Add The Nihari mix (spices that were ground & heated in steps 1-3 )

7. Add water & mix. Slow cook for 4 hours on a low heat  

8.  Measure wheat flour, add water & mix so there are no lumps. Add to the pan to thicken up the gravy.

9. Simmer on a higher heat for 10 mins to thicken be careful not to over-stir as the meat will be extremely tender & falling off the bone.

10. Garnish with fresh ginger, coriander & lemon.