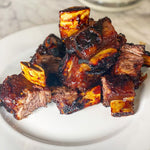 This is what you get when you combine @saffron_alley with @gordongram - true love!
INGREDIENTS:
⭕️1 onion
⭕️2 garlic cloves
⭕️2 tbsp olive oil
⭕️1/2 tsp chilli flakes (optional)
⭕️1 tsp fennel seeds
⭕️110g dark soft brown sugar
⭕️600g tomato ketchup
⭕️110ml dark soy sauce
⭕️1kg rack of lamb/ beef spare ribs
⭕️Salt and pepper
COOKING INSTRUCTIONS:
SERVES 4
🅾️Heat your oven to 150˚C/130˚C fan/gas mark 2.
🅾️While the oven is warming, peel and roughly chop the onion. Then peel and crush the garlic in a garlic crusher.
🅾️Place a frying pan over a medium heat until it is hot, then add the olive oil, onion and garlic. Fry for 4 to 5 minutes or until the onion has softened.
🅾️Add the chilli (if using), fennel seeds and brown sugar and cook, stirring, for a further 1 to 2 minutes until the sugar has melted.
🅾️Add the tomato ketchup and soy sauce and stir everything together.
🅾️Bring to the boil, then reduce the heat and simmer for 10 minutes, until the sauce thickens up.
🅾️Put the ribs into a deep-sided roasting tray and pour over the sauce.
🅾️Cover the tray with foil and put it into the oven for 2 hours, then increase the oven temperature to 180˚C/160˚C fan/gas mark 4, remove the foil and cook for 30 to 45 minutes more.
🅾️Once cooked, remove the tray from the oven and let the ribs cool down so they are not too hot to handle before serving.
🅾️Serve with lots of paper napkins because sticky fingers are guaranteed!