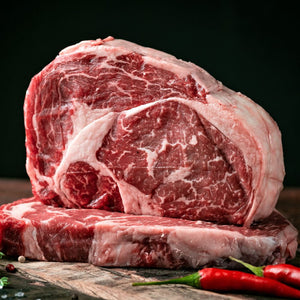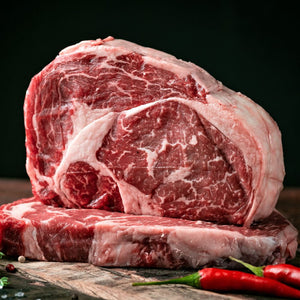 On Sale
Halal Angus Rib-Eye Steak Premium Grain Fed
Description
This fantastically marbled Premium Angus Rib-Eye is a perfect for the discerning steak connoisseur.

Originating from Spring Creek Farms Canada, black angus cattle are grain fed for 250+ days resulting in a highly marbled steak consistently from one piece to the next.

Angus Steak is known for its deep unique flavour that we all crave. Originally a Scottish Breed, Angus is a favorite in steakhouses. Angus is perfect for something special that doesn't break the bank & can be used every day. Angus is the King of Steaks.

Grain Fed

Fresh/Frozen (depending on availability)

Free-Range

Halal

No hormones
NUTRITION INFO INGREDIENTS
NUTRITION INFO
Nutritional Info (100g): Cals: 291 kcal, Carbs: 0 g, Protein: 24 g, Fat: 22 g